Hardwood Flooring Restoration and Cleaning
Do you love your hardwood floors but wish they still had the same luster as they did when you first had them installed? Deaton's Carpet One Floor & Home in Jackson, TN can help you with that! We offer hardwood cleaning and hardwood restoration services to bring your hardwood floors back to life. Cleaning and restoring hardwood are important steps in maintain the life cycle of your flooring, and when properly cared for hardwood can last the life of a home. Hardwood cleaning and hardwood restoration are very similar but are also two different methods of renewing the look of your hardwood flooring. Continue reading below to learn about the different processes.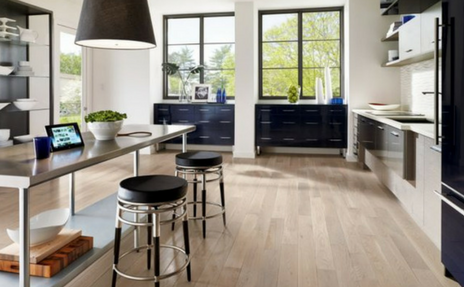 Hardwood Cleaning Process
Before we begin the cleaning process, we'll ask you to move any furniture out of the area you want clean, but if you are unable to, we are able to assist you as part of our service. After all the furniture is moved we will prep the hardwood floor by doing a thorough clean sweep prior to applying our hardwood cleaner. After sweeping, to ensure the surface is free of all loose debris, we dust mop the hard surface. We apply a pet-friendly and odor-free hardwood cleaner to remove unwanted dirt, grime, and leftover residue from spills.
Hardwood Restoring
For hardwood restoring, we use a urethane finish. It restores shine to your hardwood floors and brings hardwood back to life. It also keeps the wood flooring in better condition, longer, which means less deep cleanings in the long run. This is not a buffing/sanding procedure which means any imperfections, scratches, scuffs, nicks, etc. in the wood are typically more visible in the restoring process. It is recommended to not have any traffic on the hardwood for 8-12 hours after the urethane finish is completed. Heavily trafficked areas before the urethane finish is dried can result in increased wear and tear in a shorter period of time.
If you are interested in having your hardwood flooring cleaned or restored, be sure to give us a call or stop by our showroom!